2014 Reading Recap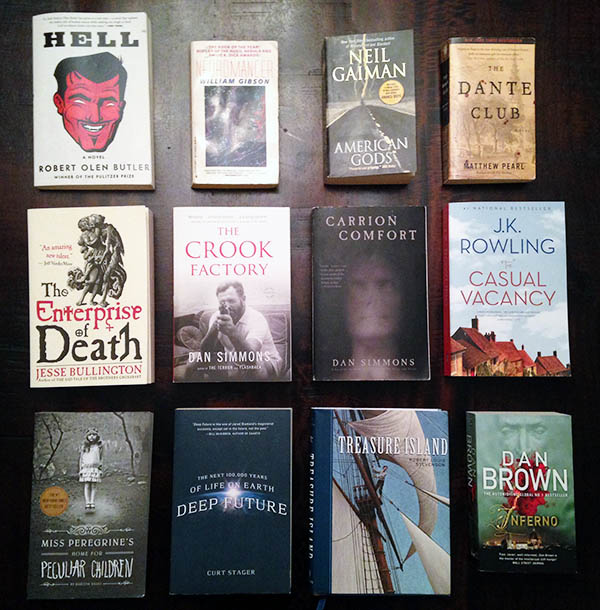 Hell (Robert Olen Butler)
The story of a guy who gets dead and then tries to escape hell, but ultimately the slow pacing and unwelcoming characters feel like a slog through purgatory. Considering the book's hype, I'm clearly missing something.
American Gods (Neil Gaiman)
What happens when an ex-con with nothing to live for is employed by a living god and begins affecting a global war between the New and Old gods. Gaiman's star-studded career writing for comic books shines through: his narrative is crisp, characters are fascinating, and plenty of dark corners are left for the reader to contemplate. A classic.
The Enterprise of Death (Jesse Bullington)
So there's this teenage slave who is captured by a necromancer, becomes his apprentice, and before escaping learns the secrets of resurrection, the undead and the spirit worlds. Before the ultimate showdown, she travels with soldiers, whores and cracked doctors while battling off-the-deep-end Inquisitors.
Treasure Island (Robert Louis Stevenson)
You've all read it, or at least know the story. This is to pirates what Bram Stoker's Dracula is to vampires. Compelling, original, and completely worth your time.
Carrion Comfort (Dan Simmons)
A book about mind vampires, Nazis, corruption and control. A horror story in the Stephen King genre, yes, but the real terror is the crippling racism that pervades every character, making the everyday passerby as hair-raising as the ghouls running concentration camps.
The Casual Vacancy (JK Rowling)
When a local councilman dies without warning, a tiny English hamlet spins off the rails as politics and biases bubble like effervescent acid to the surface. Rowling's ability to create life-like characters with the most subtle nuance, just a few words, is unparalleled, and what sounds like a flaky plot concept becomes a reflective, incisive, cruel and delicate page-turner that cannot be put down. Highly recommended.
Neuromancer (William Gibson)
For the science fiction / dark future fan, this book is the primer for a hundred other novels, television series, movies and techno albums. Gibson paints a psychedelic and unsettling future of wide economic separation, haywire AI, and military corruption that moves at the speed of the motorcycle battle in Akira. This was my second time through, and I'm already planning a third.
The Dante Club (Matthew Pearl)
Murders that mimic passages in The Inferno confound police. Who else can solve them but a bunch of poets working on a translation of Dante's works? A meh mystery novel, but a dandy romp for Dante trainspotters.
The Crook Factory (Dan Simmons)
Nazi forces swarm around Cuba, but the U.S. can't officially do much except send a secret agent to team up with Ernest Hemingway for covert surveillance. A fun history-based adventure, but the real gem is the character study of Hemingway.
Miss Peregrine's Home for Peculiar Children (Ransom Riggs)
A teenager visits Scotland to untangle his funky family history, and ends up stepping back into time to instead find a school that was home for children with creepy superpowerish abilities. The magic of this book is in the authentic period photography of kids. (Of course there's a movie, and of course it's directed by Tim Burton.)
Inferno (Dan Brown)
Dumb and unrewarding. Even for Dan Brown.
Deep Future: The Next 100,000 Years of Life on Earth (Curt Stager)
What's next for us? Not tomorrow, not 2020, but far, far into the future, where almost nothing is guaranteed? Curt Stager addresses the big question of human life so far out that the only clues we have is what's already happened. Astronomy, tectonics, climate change … all will shape how, and where, we live.
Content Everywhere (Sara Wachter-Boettcher)
A beautifully written and illustrated book delving deep into structured content, and how modularity as a strategy can serve every content channel. A perfect complement to anything Karen McGrane.
Mental Models (Indi Young)
This book is cited often, so I read it. A fascinating UX strategy born from real-world practice. Mandatory reading for #UX friends.