Apple and HTML5: Less Than Half the Story
With the launch of its "HTML5 Showcase", Apple has tried very hard to demonstrate that HTML5 is a big deal right now. Despite locking out and dismissing comparable browsers, heavy reliance on CSS3 and JS, having a nasty anti-Flash undertone, leaving no mention of real-world support and progressive enhancement, it's just swell.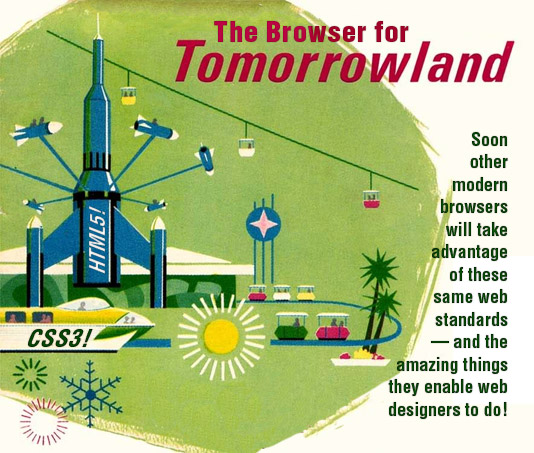 OK, so I've mainly stayed silent about the whole Apple/Adobe HTML5/Flash war of passive aggressive publicity stunts. I, like most sane people, believe all technology has a place, and that fanatics of one model who take steamy blog dumps on the opposing model should largely just shut the fuck up and go back to drooling over Princess Leia Flickr groups.
But Apple's new "HTML5" site, located at apple.com/html5, is just a bit too over eager for my liking. If you haven't gone through it, I encourage you to do so. It's an impressive demonstration of current technology. (Kinda.) As I clicked around, looked at the source, and tried to reason with its existence, my thought process unfolded thusly:
What a self-serving publicity stunt.
Well, wait, maybe there's a good reason for this.
No wait, it really is an ego-driven techno hard-on masquerading as "information".
Indulge me as I step up onto my soapbox with my megaphone cranked to 11. Here are my issues, in no particular order other than when they occurred to me.
It's Not Just HTML5
What drives me truly insane is that the entire mini-site is positioned as an "HTML5" showcase. Yes, they mention CSS3 and JavaScript, but you know what I'm talking about. The problem is that of the eight demos currently on the site, only three actually "showcase" HTML5 elements: <video>, <audio> and <canvas>. The rest of the effects are achieved through a range of CSS3 techniques with heavy dependency on JavaScript libraries like Scriptaculous and Prototype.
You know why? Because HTML5 is boring to the average man on the street. Most people just don't care about data-*, new input types, attributes like hidden and all of the other goodies on the horizon. Only serious front-end engineers care about what the revised language is really going to bring. So they have to cover up the fairly dry gajillion-page HTML5 spec with a teeth-melting layer of proprietary CSS3 icing just to hold our attention.
Like the highest level politician, they are isolating a few key facts, inflating them with conveniently adjacent but functionally unrelated facts, and then broadcasting a scrubbed package of marketing wrapped up with a disarming tagline. At best, it's discriminatory; at worst, deceptive.
Its maddening enough to invoke the <blink> tag.
So what, you ask. Who fucking cares, you say. Apple is Apple and their turds are so polished you could eat off them. But that's the problem. Joe the CTO doesn't care about HTML5 globals or even what a bitch properly encoding for and serving up the <video> is; they only care that they can now watch The Best of Quagmire YouTube clips on their iPad without getting an annoying DOWNLOAD FLASH button.
People are going to look at these gee-whiz demos, pee their pants, and immediately place an order for a scaling, rotating, flipping, dropshadowed, video-laden HTML5 website. It will supplant the current reigning incrimination of ignorance, "I want a Web 2.0 site."
Already, I have had people ask me if they should transition from Flash to HTML5. Argh.
Webkit Only. Seriously?
Of course, most conveniently, you can't view any of these demos on other browsers, not even Chrome, which is built on Webkit and (in some cases) has better standards support than Safari. The only hint that this type of technology is possible outside Apple's magical Tomorrowland Browser is a patronizing dismissal on the opening page:
But soon other modern browsers will take advantage of these same web standards — and the amazing things they enable web designers to do.
Huh. It was news to me that Firefox did not support <video>, <audio>, <canvas>, text-shadow, opacity, transforms, box-shadow, @font-face, linear-gradients, border-radius, the contenteditable attribute and the JS libraries used to stitch things together. This, by definition, is FUD.
If one were to listen to only Apple (and there are certainly none of those people), one would think that Safari was the alpha and omega of standards support. Of course there's nothing in there about Webkit's shortcomings in HTML5 and CSS3 support. Or how almost everything CSS-related that they're showing requires proprietary vendor prefixes. Proprietary. Safari relies on markup that is less portable than Flash. I've said it before and I'll say it again: vendor prefixes are, by definition, the opposite of web standards.
There's also no mention of how through smart front-end development you can engineer for all browsers with progressive enhancement.
It's a typical, low-fidelity corporate pitch: either/or. Us or them.
It Really Is Not "HTML5 vs Flash"
Apple, in its typical passive aggressive way, is trying ever so darn hard to position the aforementioned HTML5 elements <video>, <audio> and <canvas> as replacements to comparable Flash technology. Instead of positioning HTML5 as an alternative, they should have discussed what it truly is: a complement. The job requirements dictate what technology is right for the job. In some cases, it's both. This has been said by many smart people many times over the past few months. I hate to be the one to break the news, but both HTML5 and Flash are going to live long lives together.
Apple skews the facts and limits the audience's exposure to few key elements in order to demonstrate that Flash is not the only way of delivering interactive experiences. But HTML5 was designed, at its core, for rich application development, including mobile, not just serving up lame multimedia files. But application development, like comparable browser support and progressive enhancement, is not mentioned. It's just Tron and rotating text. Whee!
This is not an "HTML5 Showcase". It's a "Safari Showcase". Will it create more interest and exposure to HTML5? Of course, it's Apple we're talking about. But this is not necessarily a good thing, because the spec is not complete, no browser even comes close to implementing it in full, and the biggest of them all, IE, is years away from all but the most basic support. HTML5 and CSS3 are the web's common languages tomorrow, not today, no matter how hard Apple sexes them up.
Further Reading