The Design Career Mortality
Random, dislocated thoughts on failure and success as a designer. What defines success? What constitutes failure? Why do designers leave the field? Read on to discover that I don't know the answers to any of these questions.
Lately I have been thinking about the mortality of my design career. I'm not yet ready to stop designing, but I am wondering how long I will walk the same career path and what I will be doing farther down the road.
The way I see it, I am going to wake up one morning and realize one of the following:
I have succeeded as a designer
I no longer make a living as a designer
I have failed as a designer
Succeeding as a Designer
Succeeding. What does this mean? I don't know—I'm not there yet myself. I suppose you'd get 100 different answers from 100 different designers. Some possibilities:
Getting work published in an annual
Winning some award at some show
Getting promoted to creative director
Publishing a book
Securing speaking engagements
Starting your own business
Winning that one client
Moving beyond design (see creative director to head of marketing)
Retiring at 40
Introducing a paradigm-shifting work that changes the life of every person who sees it
Buying a 14th Century French castle (someone did)
It seems that the sum of these successes is rooted in being recognized as an authority. We all have egos to stroke. When we publish that book, win that award, speak at that conference or buy that castle, we're one step closer to being viewed as the next Ogilvy, Rand or Zeldman. We're one step closer to being written about.
Perhaps for those with egos smaller than the state of Utah, succeeding means something more … um, less selfish. Perhaps you want to design a society-changing PR campaign for a non-profit woman's shelter. Perhaps you want to design the website for your brother's new business. Perhaps you want to spread the word about web accessibility. Perhaps you just want a small ranch house in California, not a 14th Century French castle.
Success—in whatever form it takes—makes us feel better about the profession we've chosen. It makes us feel we've made something of ourselves, proved our parents wrong when they told us to become doctors instead. Success fuels our desire to get up early, burn the midnight oil, reinvent ourselves and change the industry.
Stop Designing
There are many, many designers who simply stop designing. The excitement of art school wears off, ad agency burnout sets in, senior level bureaucracy kills the magic. Some other opportunity comes along and that's it. Out of the business.
To many graphic artists, exiting the field is a bizarre concept. Pantones, grids and "the big idea" run in their blood—how is it possible to deny your chosen calling? In fact, it's such an alien notion that our industry's own magazines run feature articles on people who have left the design world to become photographers or fireman, as if the defectors need to justify their move.
Career moves are everywhere for designers. Some of them are vertical (creative director to head of marketing), some are lateral (web designer to web developer) and some are just random leaps (designer to park ranger). I think—and I predict this for myself—that most who have jumped ship woke up one morning and realized their career had squarely landed in #3.
Failing as a Designer
Falling, it is said, is easier than getting up. Likewise, failing is easier than succeeding. And as a contemporary designer, it is easier than ever to fail at our calling.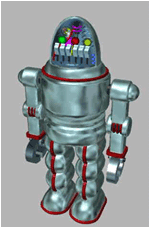 Most designers perform the work of automatons, producing programmed, redundant visual stimuli, because that's what we're paid to do. Design has become a mass-produced commodity. No one's figured out how to create creativity in a factory assembly line, so companies are forced to hire people when all they really want are programs to perform the work automatically.
The majority of graphic artists have nothing interesting to communicate. We water the visual world down with recycled ideas, tired concepts and the same color blue as the guy next door. Most of us wallow in obscurity. Justifiably.
Our failure comes from the inability to change the world, even on the smallest level. Some spend their whole life not creating, wondering why their talent for recycling has not been recognized. Others wake up one morning, look at the brochure for the 14th Century French castle, realize they're never going to own it, and just go off to become a park ranger.
WTF?
I understand this post makes little sense. It's more stream of conscious. Thoughts about this topic keep bouncing around my head like socks in a dryer, and I'm having a very difficult time organizing them.