Textpattern Template: Sapphire
I have entered a template contest for Textpattern. Normally I wouldn't let this type of thing interfere with client work, but there's a video iPod on the line and some tasty icons from IconBuffet to be plundered. Let the disappointment ensue.
I have been trying for a long time to develop a template for Textpattern, but client work always seems to crop up, and the template — like so many other personal projects — gets pushed to the backburner. But when Textplates.com launched, I chose to ignore better business reasoning and just get the thing done and maybe score some free icons from IconBuffet.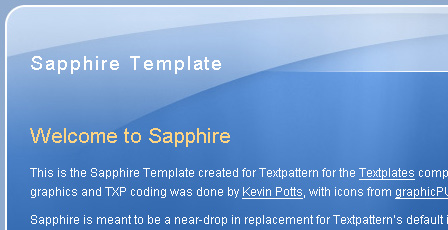 The template is called "Sapphire," and as you might imagine, it's rather blue. I've had the design for some time (I've always kind of liked the sweep at the top header), so I choose to wave my magic development wand and magically transform the Photoshop file into a Textpattern installation. The end result is a pretty simple adaptation, and requires no plug-ins or advanced preference editing. There are only a couple of new forms, but nothing major.
I understand the Textpattern community is not nearly as numerous as the vast legions of Wordpress users, but I've always felt that the templates available for TXP were too few and of barely passable quality — possibly because most of them were ports, or because our community didn't feel the need to place an emphasis on prefabricated designs.
Whatever the case, Textplates has addressed the issue, and some of the results are very positive. Tom MacWright has developed a nice non-blog template while Jacob Reinsma, Juanjo Navarro and others have provided great blog-style skins. I have no idea who the winner is going to be, but the TXP community at large will benefit greatly.
While Sapphire was a time-eater, I would like to pursue two more template pieces. One would be a super-newb template, where the user simply replaces the CSS file. I would also like to develop a more advanced, non-blog template for corporate/business applications. In the future, I will also add a section to graphicPUSH for these, similar to the section for the icons.