The US Airways Abattoir of Suffering
Finally back after a hellacious travel experience. I love US Airways. And by "love" I mean "want to destroy."
Back from vacation and recovering from an eventful trip. For ten days I barely thought about computers, pixels and Bezier curves. Most of my brain was filled with sand and a gushing fountain of hate for US Airways. In brief:
Monday, Aug 8: Woke up at 3:45 AM, got to the airport at 5:00 AM, checked in and was waiting for my 6:20 flight by 5:40. At about 6:00, was told the flight had changed gates and had to run across terminal to not miss boarding. This was not ever announced, evidenced by the fifteen other people that had to scramble. Yeah.
Monday, sometime mid-morning. Arrive in Philadelphia. Wait an hour and fifteen minutes for the flight's bags to come up in baggage claim. Step between a brewing fistfight between a US Airways worker and another passenger. Turns out the bags were right underneath the claim but no one ever bothered to load them onto the conveyor belt. Hooray for efficiency.
Monday, sometime late afternoon. Finally arrive in Long Beach Island. Unpack bags, walk outside to stroll on beach, promptly starts to rain. Go eat incredible dinner with family at nice restaurant. Chilean sea bass cooked to perfection. The manager working there is family so we get all kinds of special treats from the chef.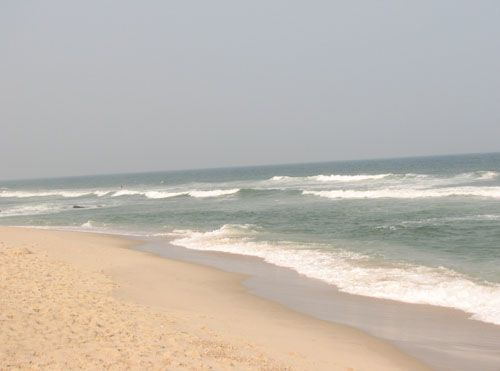 Tuesday – Friday. Chill on beach. Eat scallops and shrimp. Drink lots of Corona, ice cold with fresh lime. Play miniature golf, wonder why an activity so stressful and competitive isn't a professional sport. Hang with parents and in-laws. Introduce 10-month old baby to the wonder of sand in the underpants.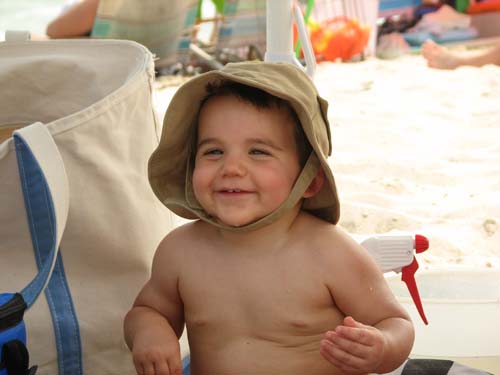 Saturday. Scramble to pack. Leave rental house with fifteen minutes to spare. Lots of yelling and stuffing of car trunks. Wonder why I ever bothered to quit smoking.
Sunday – Monday. Chill at in-law's house. Cower from oppressive east coast humidity. Watch the Eagles totally lose it to the Steelers but smile when Jevon Kearse lays out Bettis in the first quarter for a loss of two yards.
Tuesday morning. Rain. Scramble to pack. More yelling and stuffing of car trunks. Must hold large heavy suitcase on my lap while driving to the airport. Circulation completely cut off; hope airport has a doctor that can perform large limb amputations before my leg turns gangrenous.
Tuesday afternoon. My family enters what I like to call the "US Airways Abattoir of Suffering."
Tuesday, 2:45 PM. Arrive to find our flight is cancelled, solely because of flight congestion. Only alternative: transfer to Charlotte, then to Kansas City. Flight to Charlotte is supposed to leave at 4:20. Fine.
Tuesday, 4:00 PM. Airplane we are supposed to take to Charlotte hasn't even arrived. Worried we'll miss our connecting flight, we try to transfer to a different airline flying to Chicago, then Kansas City. US Airways announces that the flight from Charlotte to Kansas City is going to be held for all the people who were bumped off the original cancelled flight.
Tuesday, 5:30 PM. Waiting on runway to take off. Starting to freak out. Philadelphia had to close a departing runway because of weather, so we have to taxi into a different queue. After much gnashing of teeth, we finally get off the ground.
Tuesday, 7:30 PM. Arrive in Charlotte. One of US Airways' satanic minions politely tells everyone the connecting flight to Kansas City already departed. And yes, that was the last flight to KC. Please report to Special Services. If you ask politely they will give you a gun to shoot yourself.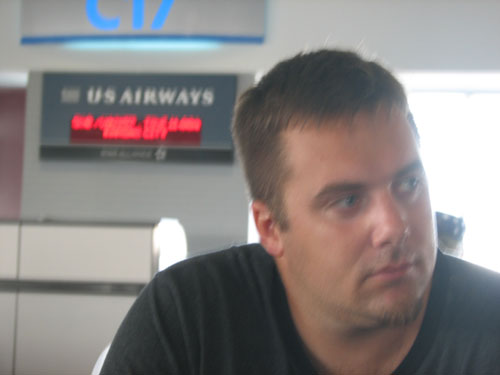 Tuesday, 9:00 PM. After a sickeningly long wait in Special Services, US Airways books us into a Ramada for the night. We wait outside in 95 degree heat / 100% humidity for 45 minutes before the Ramada — modern marvels of hotel efficiency — huff and puff their shuttle/jalopy down to the airport.
Tueday, 9:55 PM. We arrive in our hotel room which looks uncomfortably like the rooms from the movie Identity. US Airways gave us food coupons to use, so we load up on hot wings and fried ice cream for dinner. Watch "Rock Star: INXS" and finally crash. Fall asleep to the sultry, soothing sounds of the coffin-sized air conditioner squeal and grind out a nonadjustable blast of arctic air three feet from my head.
Wednesday, 9:00 AM. One word:

IHOP

.
Wednesday, 11:00 AM. Flight leaves on time. No delays, no hassles. Amazing.
Wednesday, 12:30 PM. Arrive in Kansas City. Get luggage, get car, go home. Marvel at the total smoothness and efficient trip home only to discover the air conditioner in my house broke while we were away. Living room is brain melting 87 degrees. Call repair guy; four hours and $615 later, cool air is moving again.
Anyway …
Better content forthcoming, I promise. I have been scrambling to catch up on several freelance projects so writing time has been somewhat limited. I read Cederholm's new book
and will post a review shortly.